1.5 Core Mods
Automatic vs Manual Mods Installation (Optional)
As described in the previous sections, this guide provide a manual way of installing mods, if you want to go for automatic method, follow these steps (It's the same for all the mods)
For each mod you will see these buttons

The guide will always tell you to click on manual download
For automatic method, click on Mod Manager Download, you will get a window popup on your browser, click on Open NXM Link Proxy
Go to Mod Organizer 2 Downloads tab to see the progress of your download

When the mods is downloaded, you will get this result.
Right click on the mod and select Install.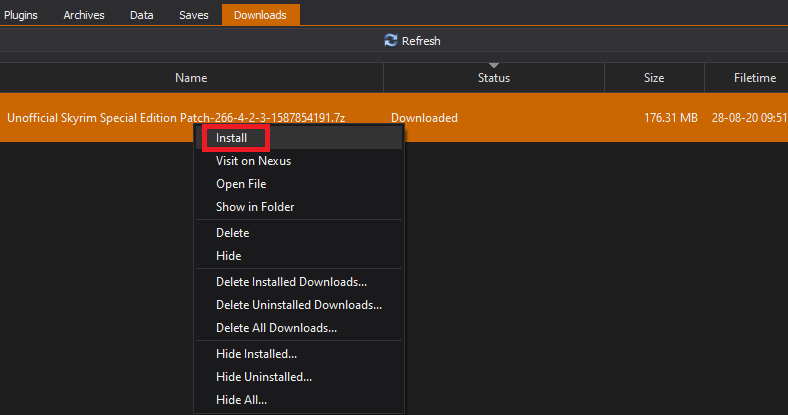 Glossary
For some mods you will see these notes
Hidden Files
Meaning some files have been set to hidden for the mod
Edit
Meaning you have to manually adjust settings
Cleaning
Meaning you have to clean the mod
Fomod
Meaning the mod has a fomod setup wizard
Warning!!!
Sometimes when you install and activate a mod, the corresponding esp plugin file (if any) on the right panel can be left unchecked.
Always check in the Mod Organizer 2 right panel if the corresponding esp file is activated (unless the guide explicitly says to uncheck it)
Start to install Mods
Make sure you install the mods in the following order.
Click on a mod to expand the content
Post Installation Setup