2. Skyrim Setup
First you need Windows 10 64 bits as operating system. The installer architecture is only based on 64 bits system.
Skyrim Special Edition
Obviously, you also need a fresh and legal copy of Skyrim Special Edition.
When you have your copy of Skyrim SE, you can proceed to the game installation by clicking on the install button.
Click on Next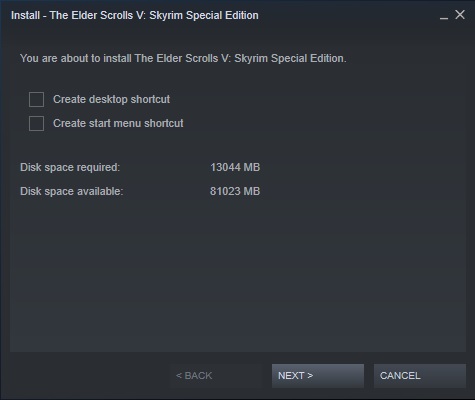 Scroll to the bottom and click I agree
Downgrade Skyrim SE (1.6 with free content) to Skyrim Special Edition 1.5.97
Click here to download the Unofficial Skyrim Special Edition Downgrade Patcher from nexusmods.com
Select the full patcher 3gb (NOT BEST OF BOTH WORLD!!!) and click on manual download.
Be sure the patcher version matches your Skyrim SE version otherwise IT WILL NOT WORK!!!.
To check that, go to your Skyrim SE install directory from steam, right click on SkyrimSE.exe and in the detail tab check the file version.
In the example above the patcher is for Skyrim 1.6.353 so be sure your skyrim version is 1.6.353
If the patcher version does not match your Skyrim SE version wait until the author release a matching version.
When downloaded, extract the file somewhere and execute FullPatcher_1.6.353.0-1.5.97.0.exe (name of the file can vary if a new version of the patcher is released)
Browse to your Skyrim Special Edition and click on Start Patching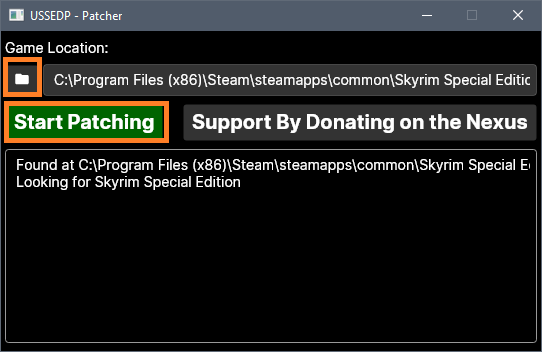 This can take some times to complete. Wait until the process is finished.
Check your downgraded Skyrim Special Edition
When downgraded, go to your Skyrim SE installation directory from steam and check the file structure.
Check if you have these files, also be sure the files size matches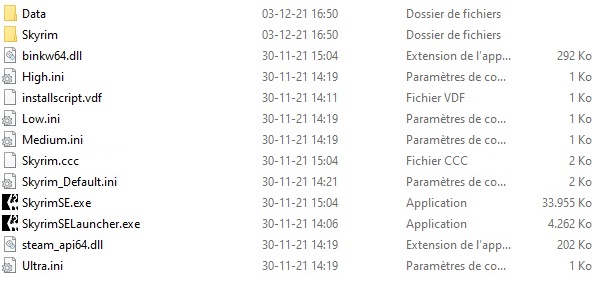 Do the same fo the Data directory
Be sure you don't have less or more files. If not uninstall Skyrim from steam, delete the Skyrim Special Edition folder, reinstall Skyrim Special Edition from steam and rerun the patcher.
The file binkw64.dll must be bigger than 290 kb, IT'S VERY IMPORTANT for the installer to process the dll plugin mod installation and avoid black screen when launching the game.
If for some reason you don't have the binkw64.dll with the right size, click here to download it (select 1.9.99 the bigger one)
Extract the file somewhere and copy-paste it in your skyrim installation directory (with overwrite confirmation). The file should have a size of 303kb
Prevent steam from automatically updating the game
For this you have 2 possibilities
Configuring steam to not update the game
Copy the downgraded Skyrim Special Edition from steam elsewhere (recommended)
1. Configure steam to not update the game
Right click on Skyrim Special Edition and select properties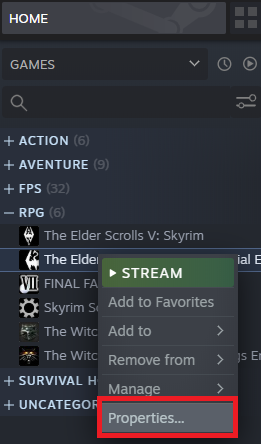 Go to updates tab and select Only update this game when i launch it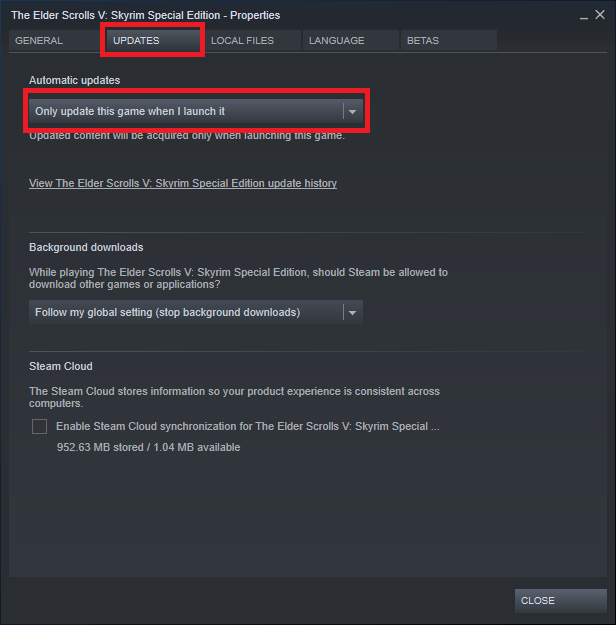 2. Copy the downgraded Skyrim Special Edition from steam elsewhere (recommended)
Copy the entire Skyrim Special Edition directory from steam in a other location (e.g [Drive]:\Skyrim Special Edition Nolvus
Remember this location, we will need it further!
Graphic Drivers Setup
Go to the Nvidia Control Panel from Windows Control Panel -> Nvidia Control Panel or from your Windows system tray icons and set the following.
Go to 3D Settings -> Manage 3D Settings -> Program settings tab as shown below