4. Installation
Click here to download the latest version of the Nolvus Dashboard Installer application.
When downloaded, go to the location you have downloaded the file and execute NolvusUpdater.exe
Don't run it from your default Windows download folder, but copy it to a directory which will be your installation directory (like D:\Nolvus).
Be sure this directory is not too long to avoid issues when installing mod with a long directories structure which will gives your errors during installation.
Let the installer proceed to installation
When finished, close the window

Select your Skyrim Special Edition directory.
Click on Auto detect or browse your Skyrim Special Edition directory manually, then click on Next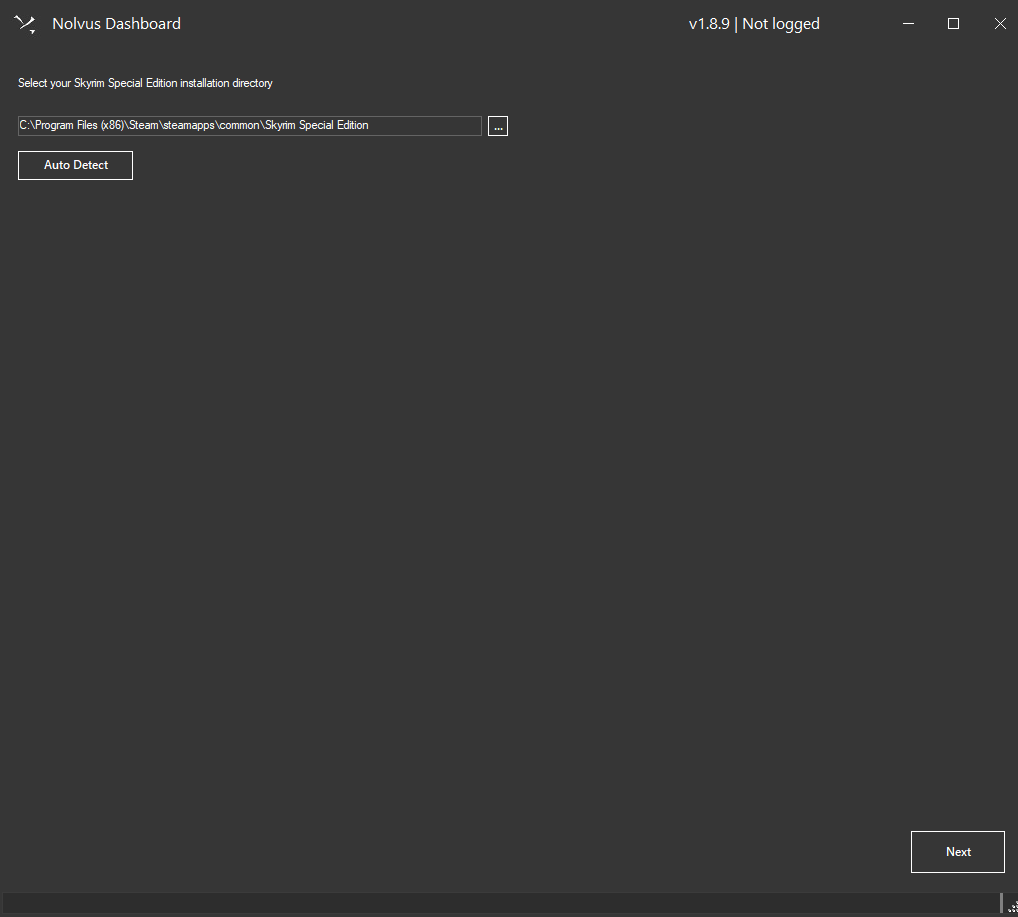 Paste your Nexus personal API Key you generated earlier and click on Next.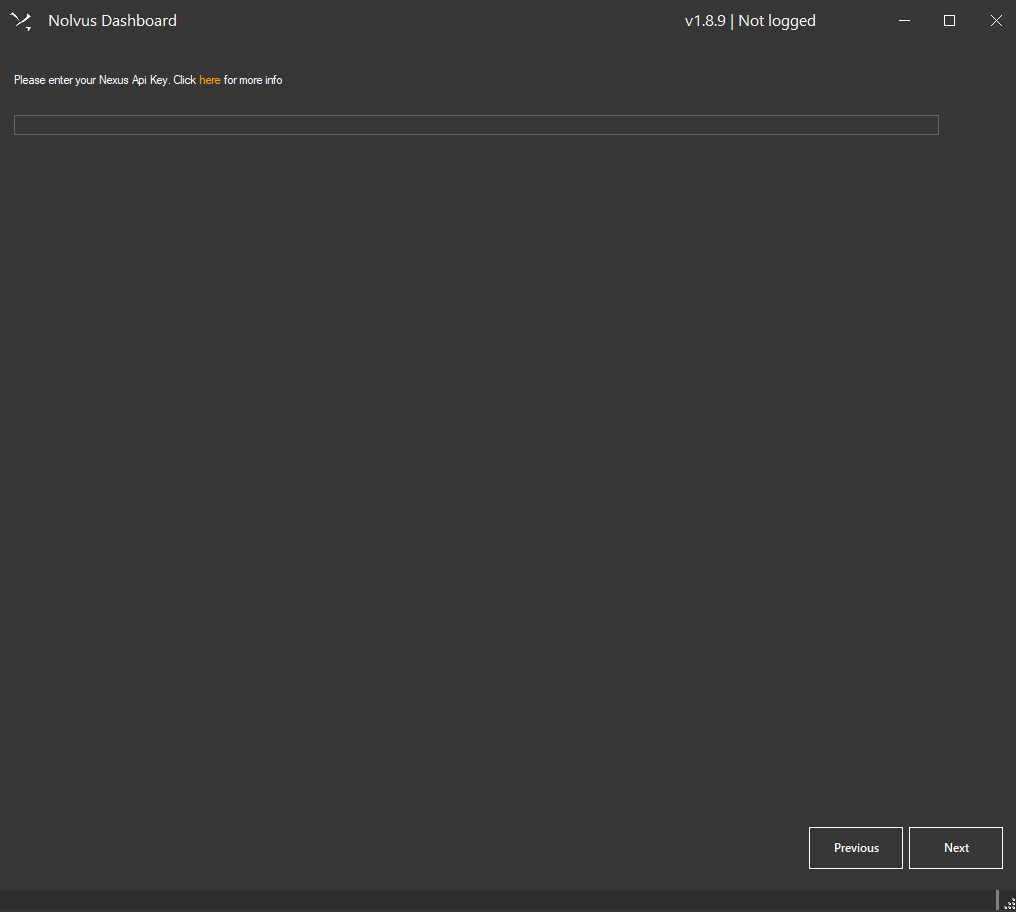 Enter your Nolvus account user name and password and click on Next.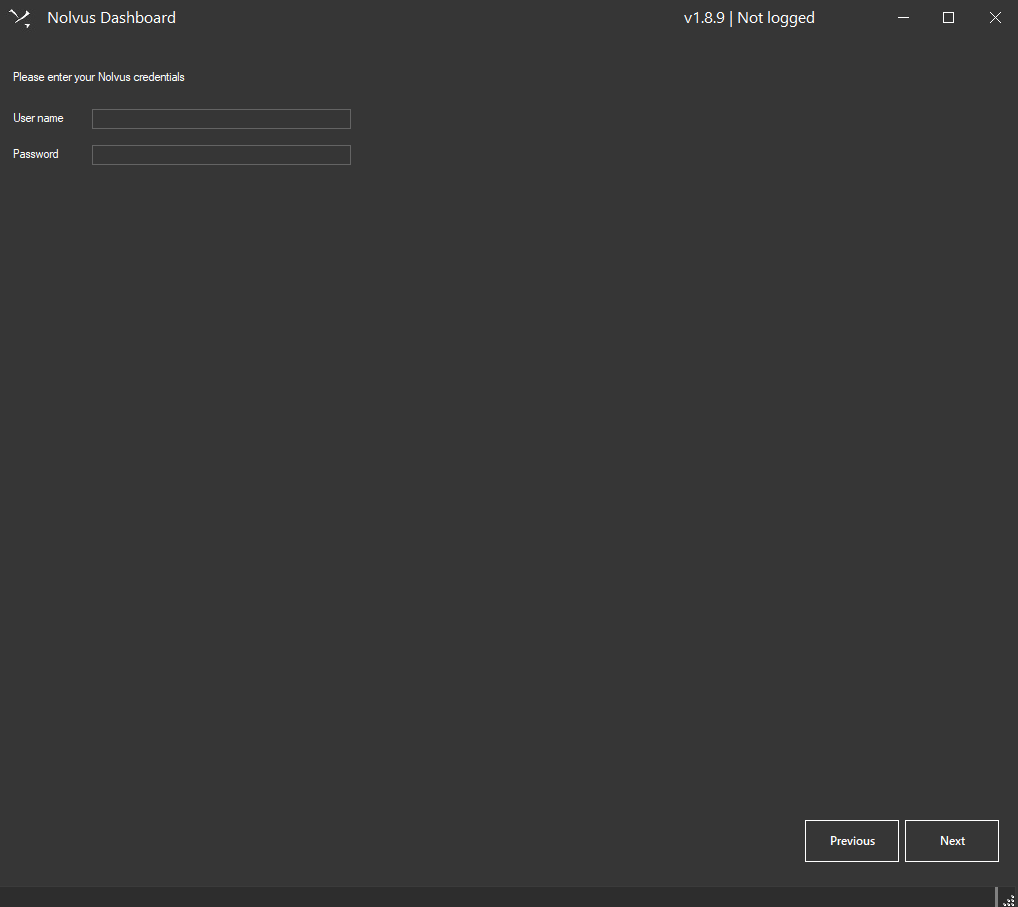 Running the auto installer
To launch the auto installer
Go to your installation directory and execute the file

NolvusDashBoard.exe
This is the first installation screen you get.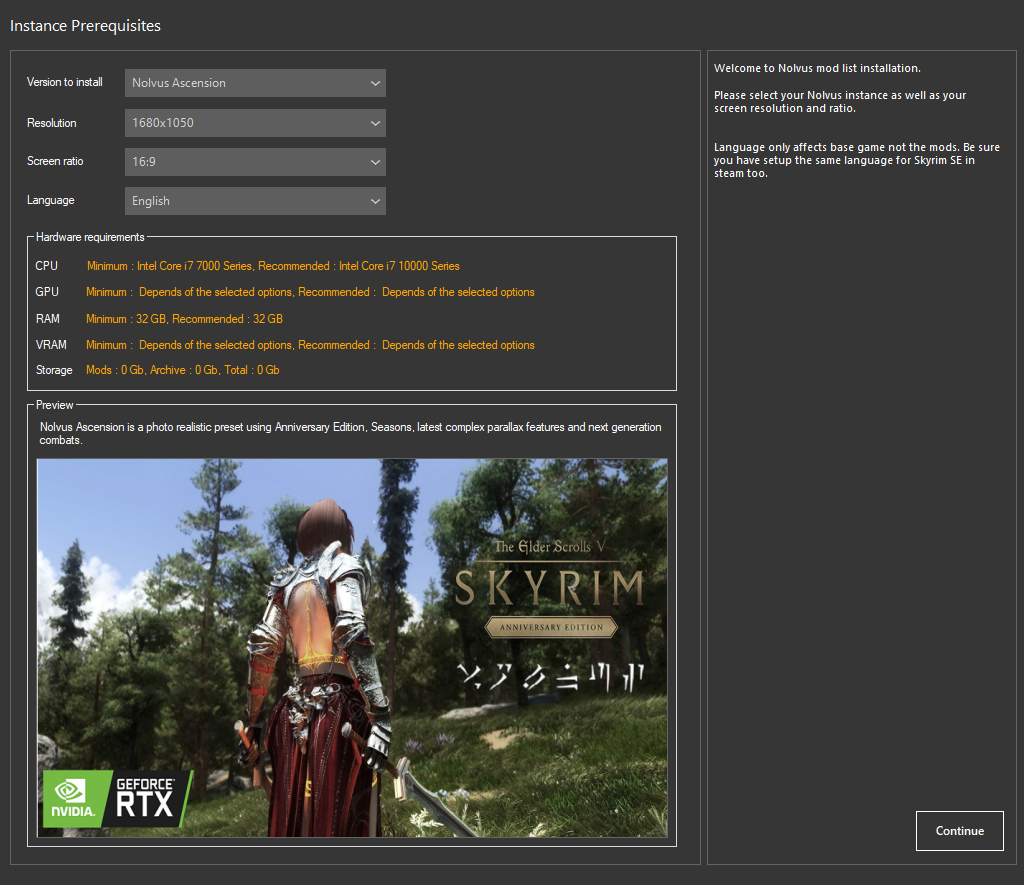 Nolvus latest version (v5) is Nolvus Ascension.
Be sure to select the right resolution for your monitor to not play zoomed or in a small window (the resolution can be changed after installation)
Select your monitor ratio (16:9/21:9)
Warning!!! Some mods will be added or not depending the ratio you selected so be sure to select the right ratio because you will not be able to change it after installation.
The language you select has to be the same than the one you selected in steam.
Only the base game will be translated, not the mods.
When done click on Continue
Select the directory where you want to install your instance as well as archive directory.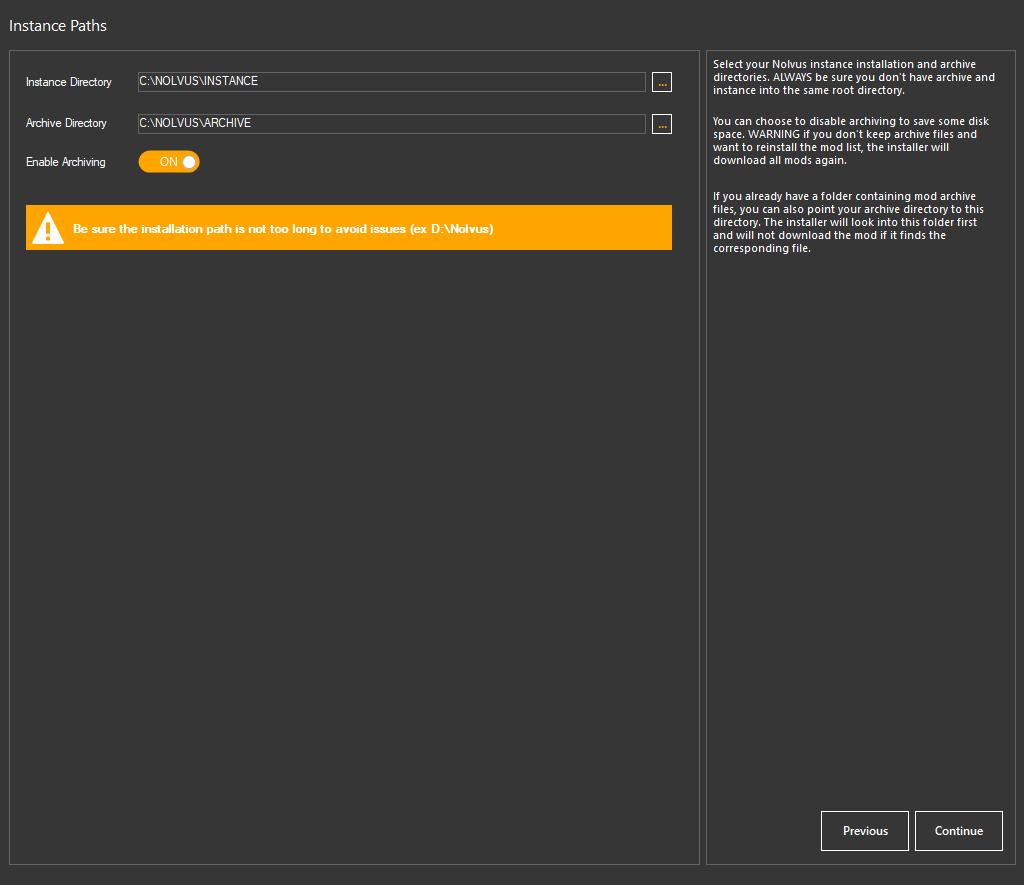 Instance directory will contain Mod Organizer 2, profile info and installed mods
Archive directory will contain the mods archive files
If you don't want to archive the mods just disable the option.

You can also set the archive directory on a HDD to spare space on your SSD.
You can point your archive directory to a folder that already contains mod archives, if the files match (checksum), the installer will not redownload them.
When done click on Continue
Select your performance options
There are 2 variants you can choose from, Ultra or Redux
Ultra is the maxed out preset of this list
Redux is less heavy on cities and vegetation while keeping the same gameplay mechanics
All hardware requirements and storage space are listed depending your selections.
Select your antialiasing
You can choose TAA (performance friendly Anti aliasing) or DLAA which is the new NVIDIA anti aliasing system (cost more on perfomance)
Warning choose DLAA only if you have an NVIDIA RTX card otherwise you will CRASH AT START.
Choosing DLAA will install new mods to make it work and you will not be able to change that after installation.
You can also select your default Skyrim ini profile (based on Bethini with recommended settings)
It's not recommended to use Bethini with Nolvus because in some cases it can cause issue with the installer options
Ini profile can be changed after installation
If using Ultra variant, you can also select the LOD's (vegetation, objects in the distance) quality.
LOD's cannot be changed after installation.
Select SMP physics and Fake raytracing options (cost on performance).
These 2 options cannot be changed after installation.
Finally you can use the downscale feature fo the installer, if you want for instance to play at 1080p on a 1440p monitor to save performance.
Downscaling feature is not compatible with DLAA.
If you want to use DLSS from Pure'sDark patreon, be sure you have an NVIDIA RTX card and select DLAA.
The installer will install and setup everything you need and after installation you will just need to disable the installed upscaler from nexus and install the patreon DLSS
When done click on Continue
Select your additional options
These options can not be changed after installation.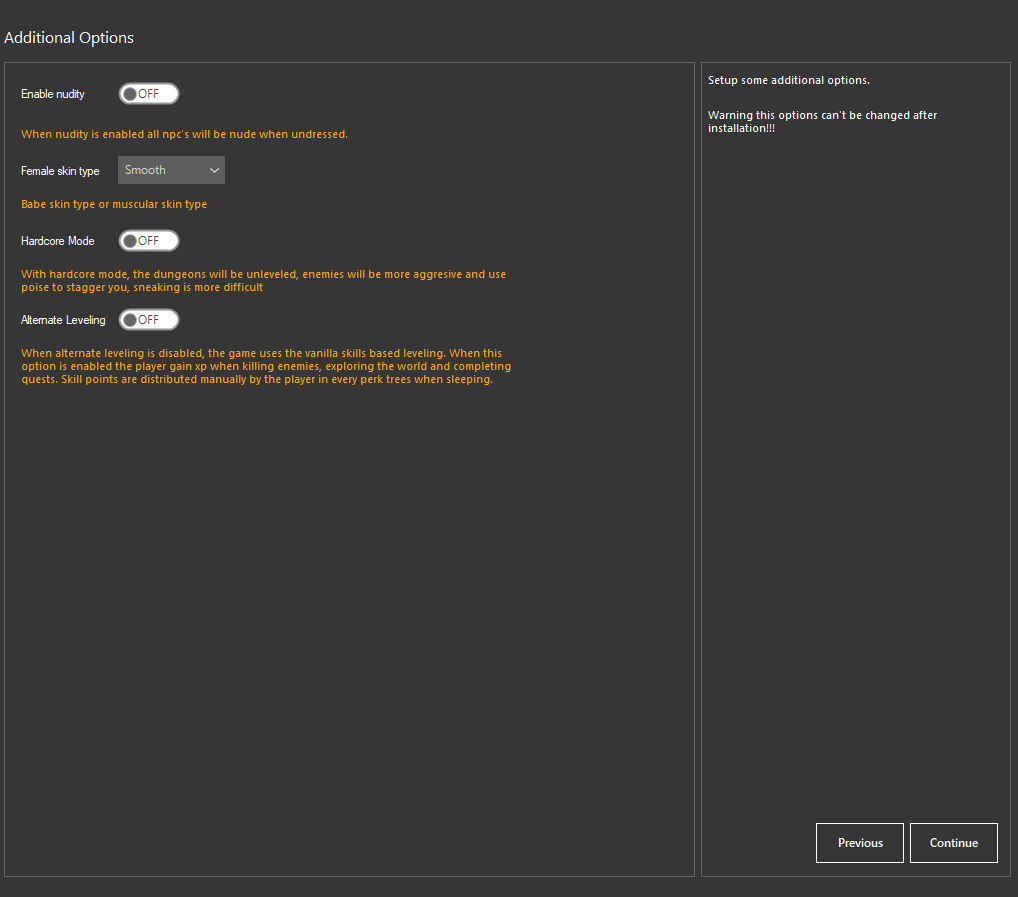 When done click on Continue
Select your ENB
So far only one ENB is added, more presets will come in the future.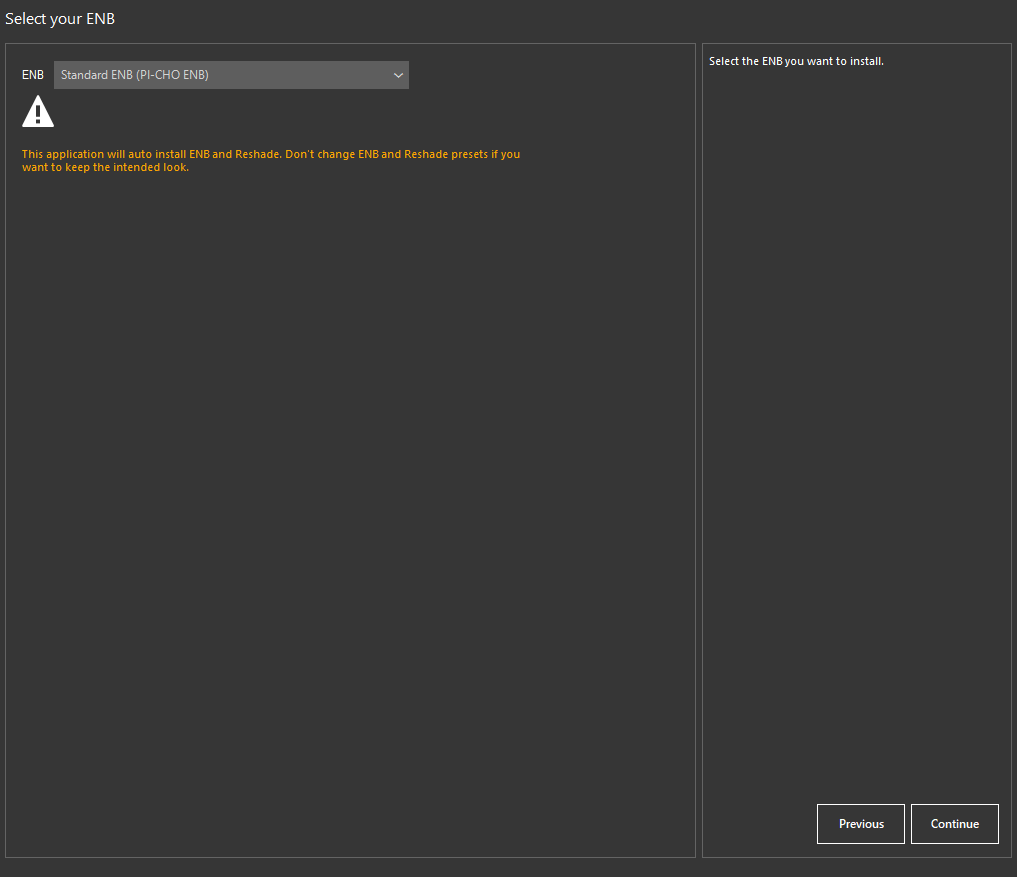 When done click on Continue
Select your best download location (only for Nexus Premium users) and click on Continue.
If your download are slow or buggy, select an other location (near where you live).
Review your installation settings and click on Start
Let the installer proceed its job.
If you have any issues during the installation process, please join our Discord for support.
Post Steps
These are the post steps to follow to be sure everything is ok and to prevent any bugs or black screen issue when you launch the game.
1. When the dashboard has installed your Nolvus Instance, click on Manage and Instance

Be sure you don't have anything in red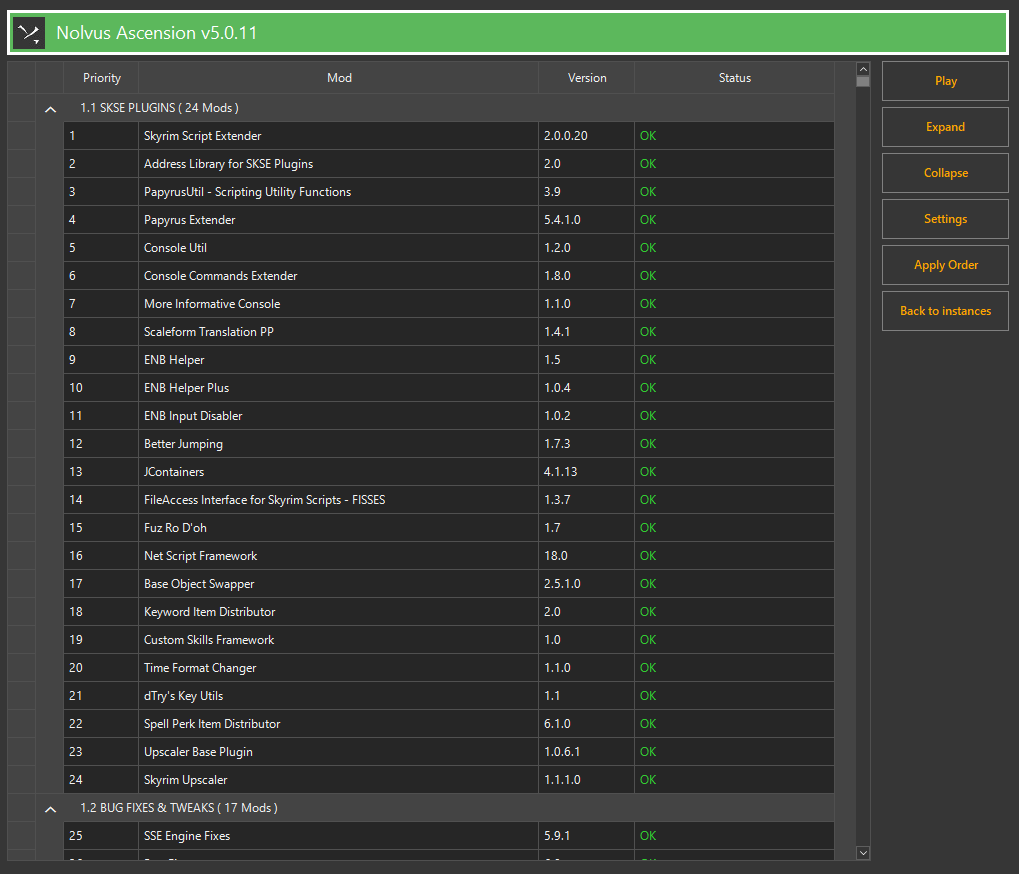 2. Go back to the instances screen and click on Play. The installer will launch Mod Organizer 2.
3. Select NOLVUS in the right drop down list and click on RUN to launch the game.
Reinstall an instance
Click on Manage and Delete
After your instance has been deleted, you will be able to install again
Additional info
To review your instance settings click Manage and Instance
Click on settings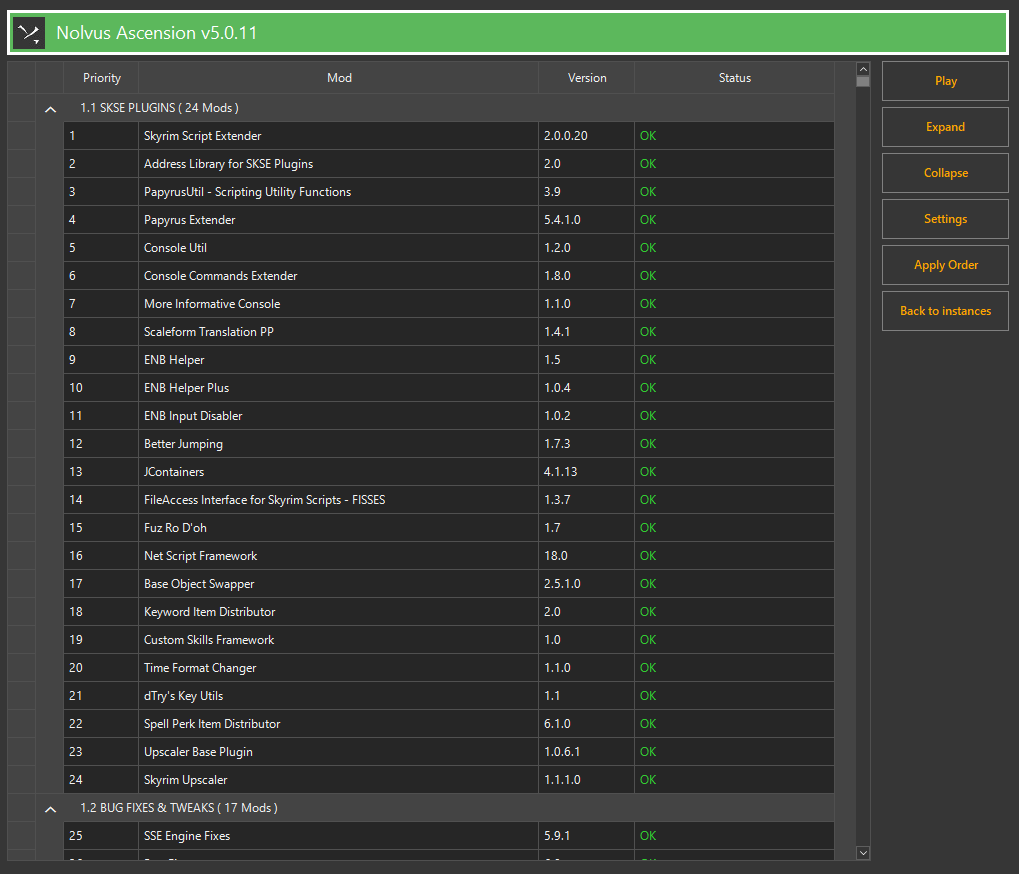 Installation time will depend on many things
Nexus premium account or not
Internet connection speed
SSD read/write speed
CPU for extracting files
On modern computers and if you are Nexus premium it should take about 1hour to install everything (15 minutes with archives).
When the mod list is installed, all instances info are stored into the file InstancesData.xml under INSTALLDIR\Instances directory
Do not delete or modify this file if you don't want to break your installation.