3. Installation
Click here to download the latest version of the Nolvus Dashboard Installer application.
When downloaded, go to the location you have downloaded the file and execute NolvusUpdater.exe
Don't run it from your default Windows download folder, but copy it to a directory which will be your installation directory (like D:\Nolvus).
Be sure this directory is not too long to avoid issues when installing mod with a long directories structure
Let the installer proceed to installation
When finished, close the window

Select your Skyrim Special Edition directory.
Click on Auto detect or browse your Skyrim Special Edition directory manually, then click on Next
Be sure the directory points to your freshly installed and unaltered Skyrim Special Edition from steam.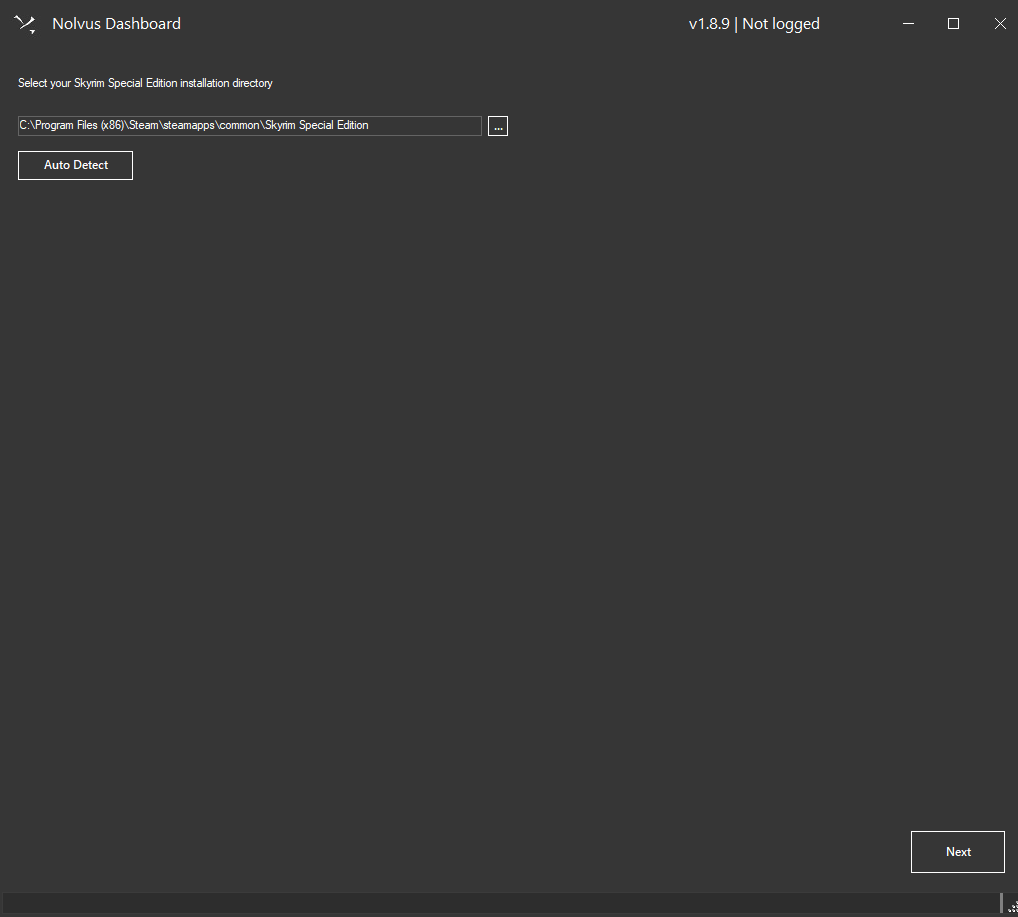 Paste your Nexus personal API Key you generated earlier and click on Next.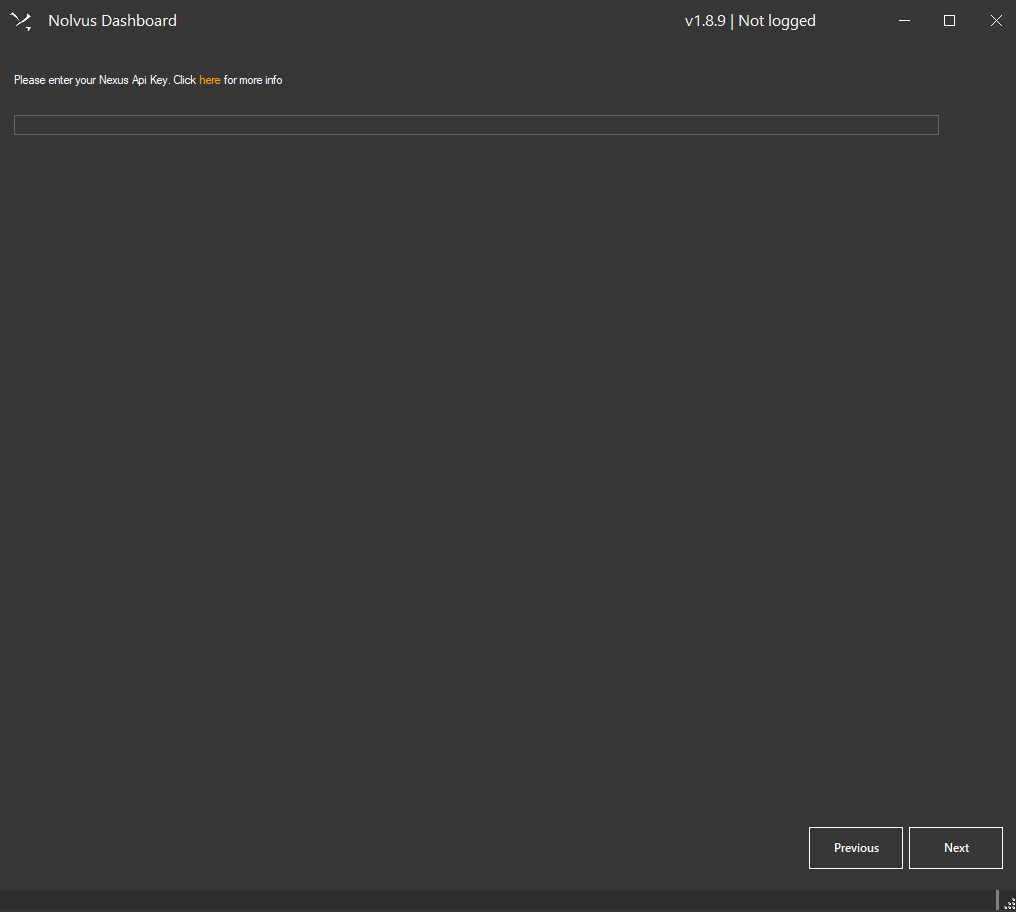 Enter your Nolvus account user name and password and click on Next.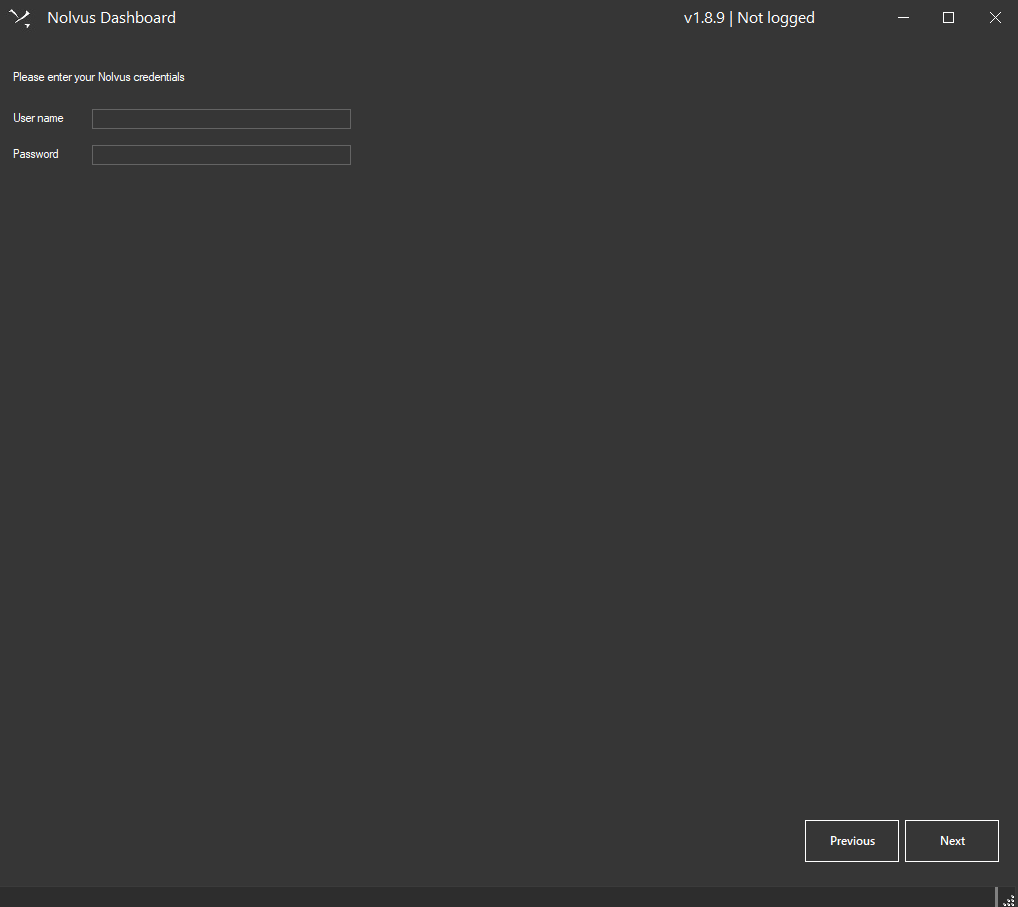 A note on the Nolvus Agent
Nolvus Agent is a small piece of software running in the system tray and starting with Windows.
It will periodically check for both Nolvus Installer software updates and Nolvus guide version updates and notify you when they are available.

Running the auto installer
To launch the auto installer, 3 ways are possible
Doucle click on the desktop shortcut (If you have selected this option during installation)
Go to your installation directory and execute the file

NolvusDashBoard.exe

If you have installed the Agent, right on the icon in the task bar system tray and select

Open Dashboard
Select the version to install, your screen resolution, aspect ratio and language (only for base game) and click on continue.
Nolvus latest version (v4) is Nolvus Natural Lighting.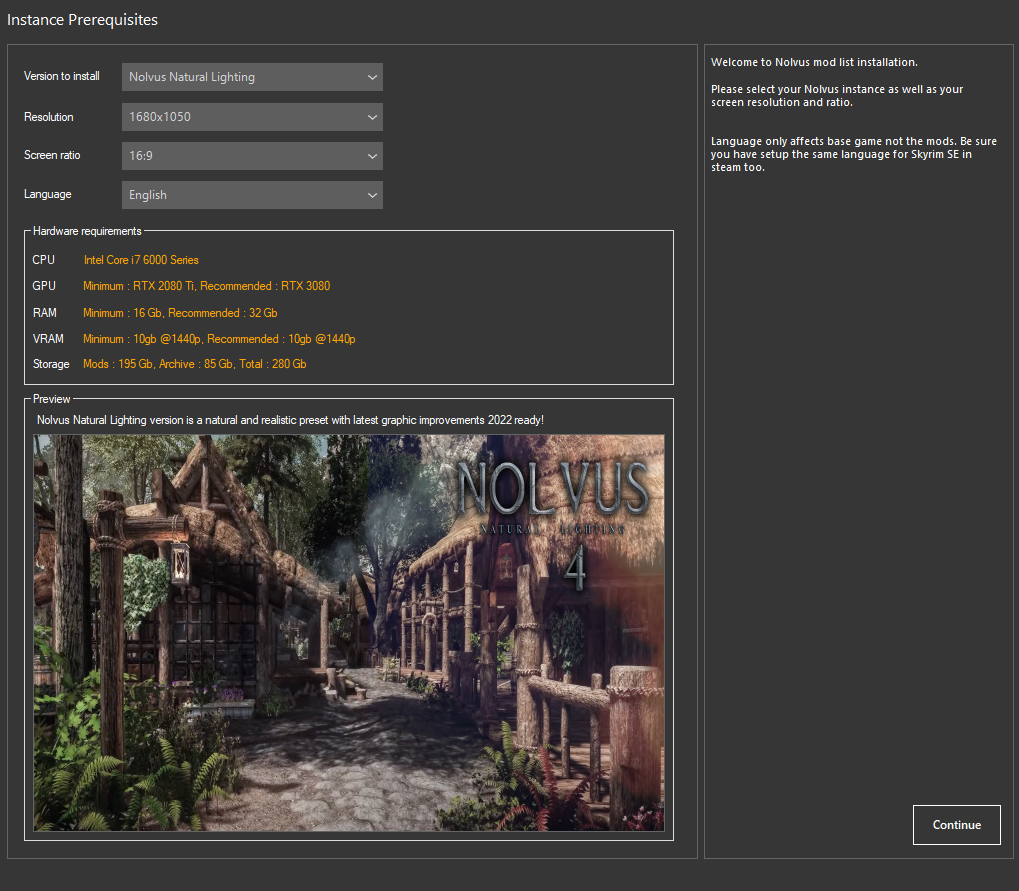 Select the directory where you want to install your instance as well as archive directory.
Instance directory will contain Mod Organizer 2, profile info and installed mods
Archive directory will contain the mods archive files
If you don't want to archive the mods just disable the option.

You can also set the archive directory on a HDD to spare space on your SSD.
Alternate Archive directory can be set if you have a directory containing mods archives. The installer will look for mods in this diectory and all sub directories and if it finds one it will not download the mod and process directly to the installation.
Click on Continue
Select your performance options (only for Nolvus v4 and higher)
These options can not be changed after installation (except for the resolution downscaling).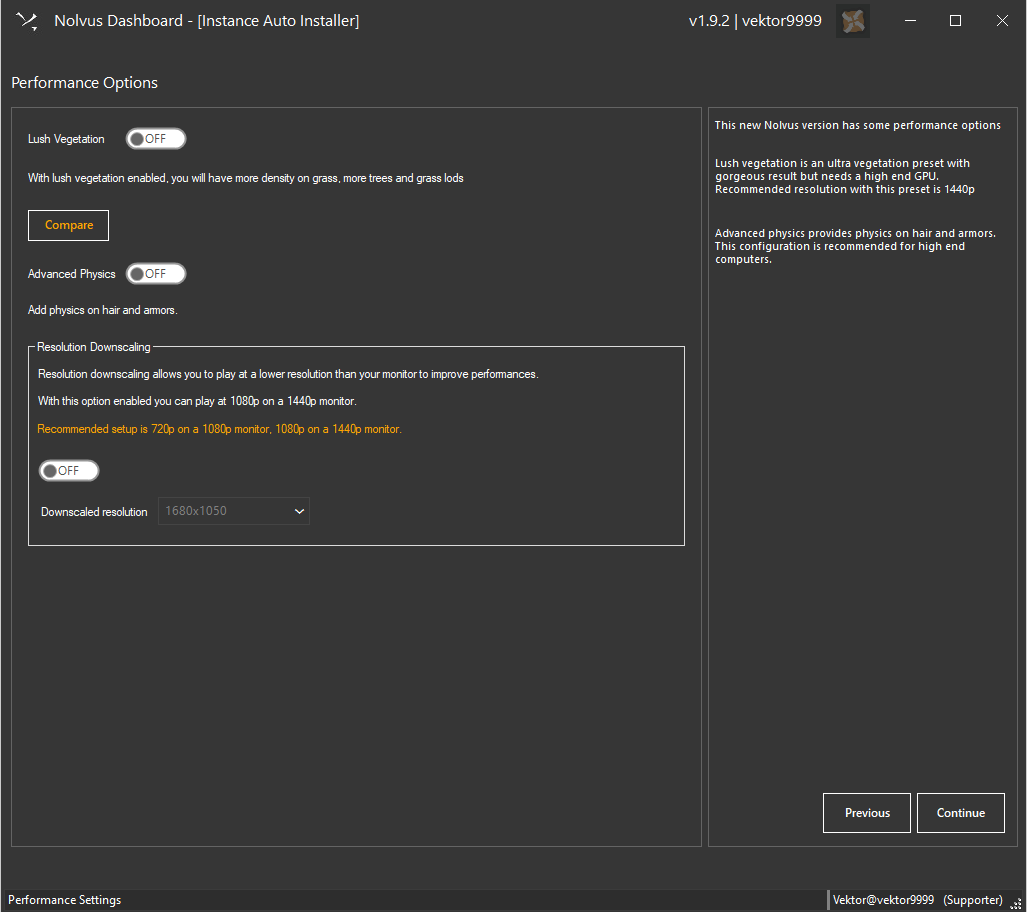 Click on Continue
Select your additional options (only for Nolvus v4 and higher)
These options can not be changed after installation.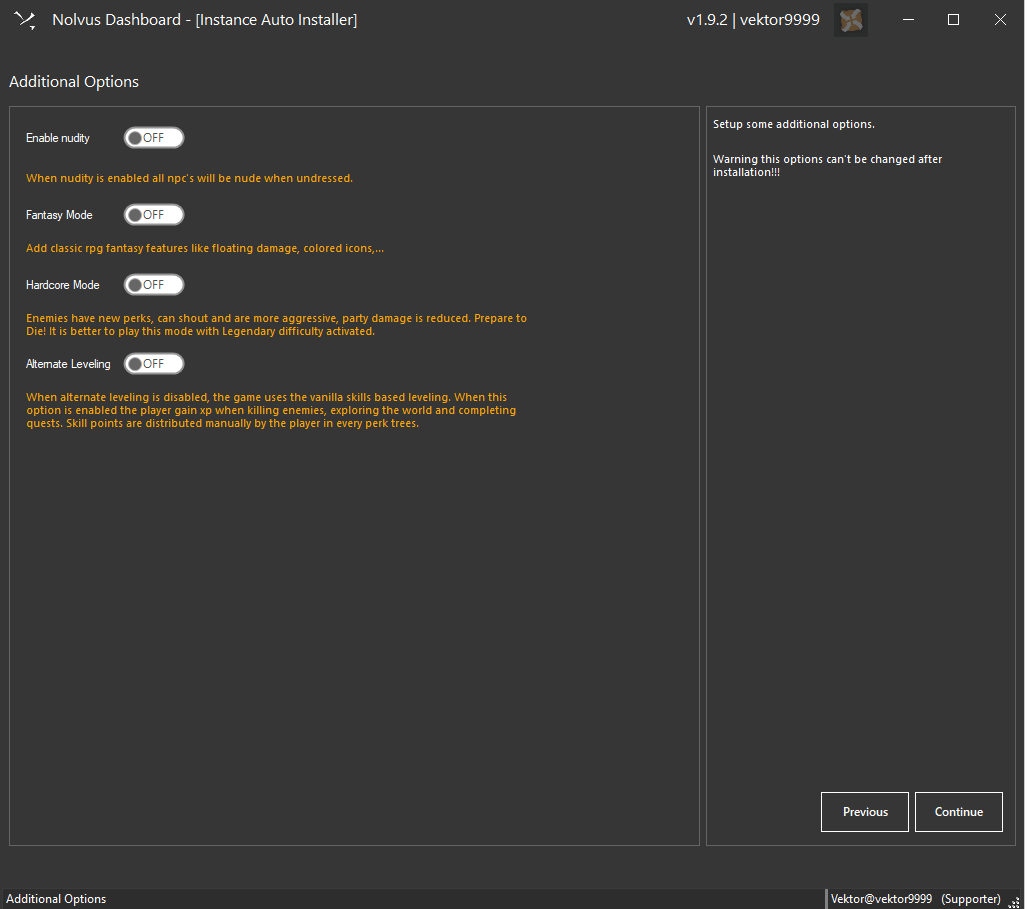 Click on Continue
Select your ENB (only for Nolvus v4 and higher)
These options can not be changed after installation.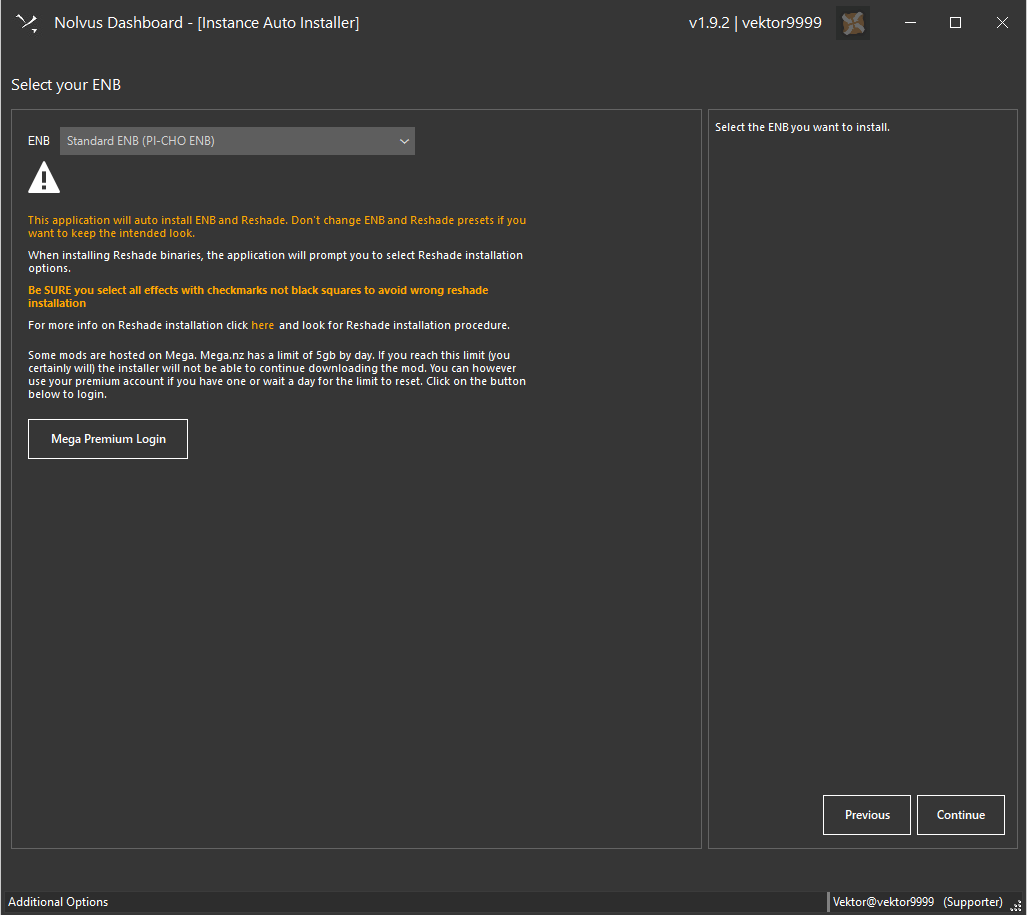 Click on Continue
Select your best download location (only for Nexus Premium users) and click on Continue.
Review your installation settings and click on Start
The installer will create a stock game folder so your game is isolated and will be bind to your Nolvus instance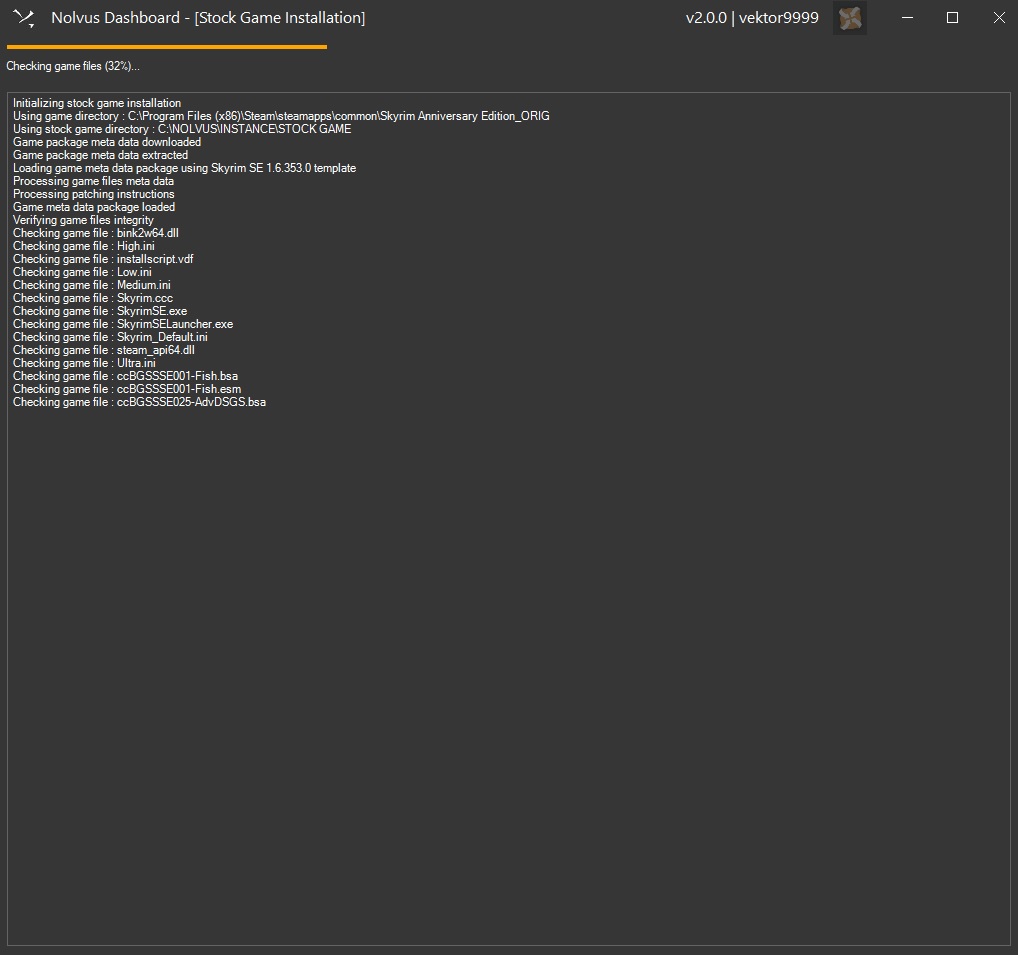 Let the installer proceed its job.
Post Steps
These are the post steps to follow to be sure everything is ok and to prevent any bugs or black screen issue when you launch the game.
1. When the dashboard has installed your Nolvus Instance, click on Manage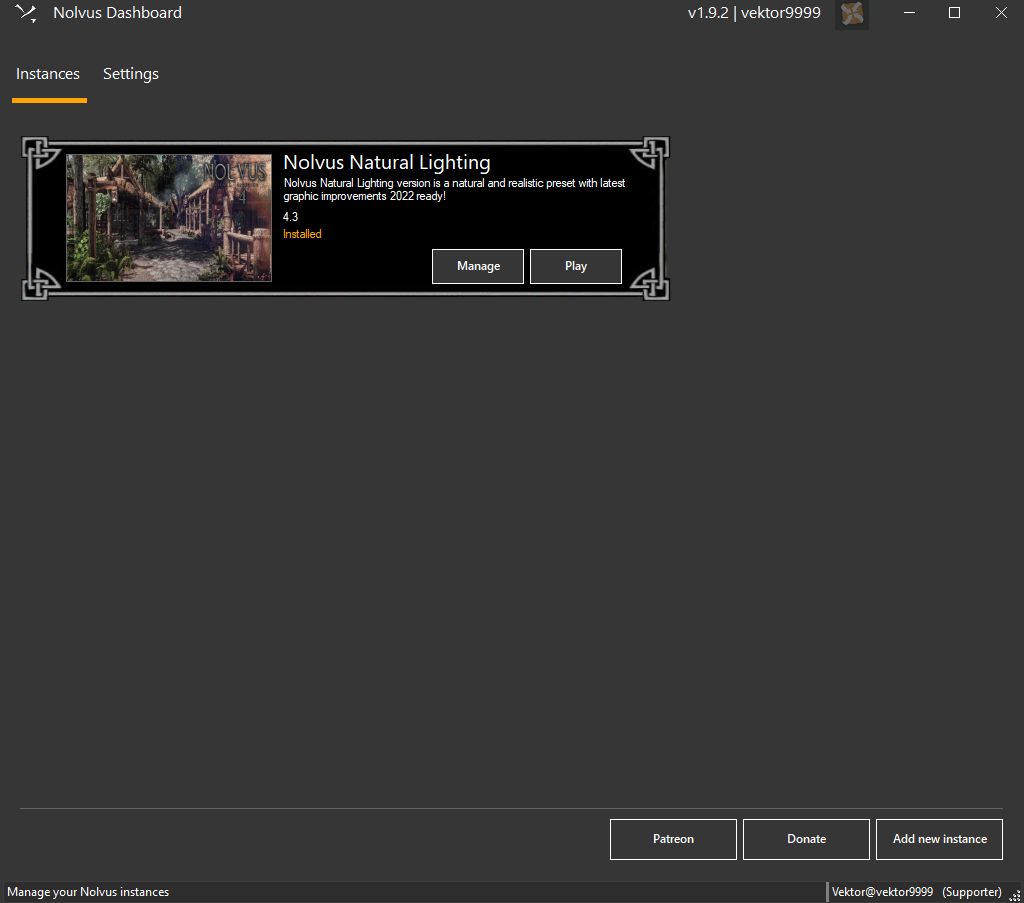 Be sure you don't have anything in red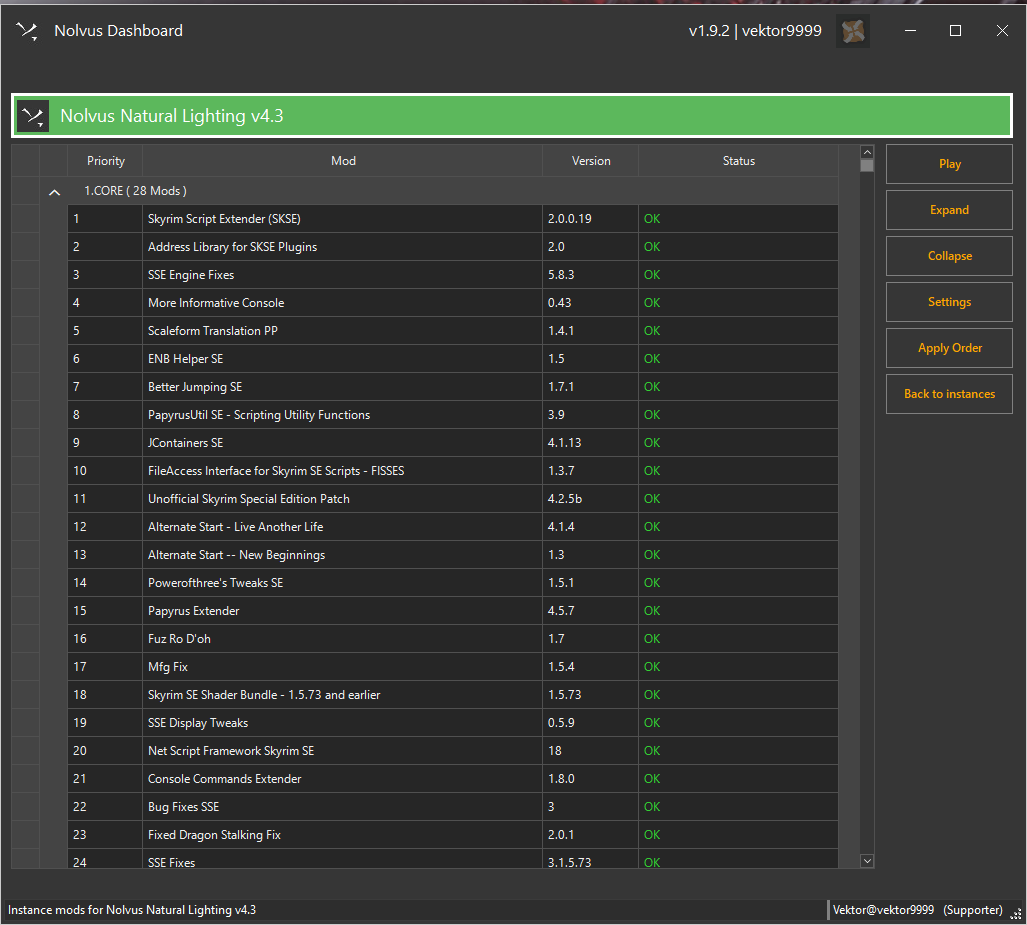 2. Go back to the instances screen and click on Play. The installer will launch Mod Organizer 2.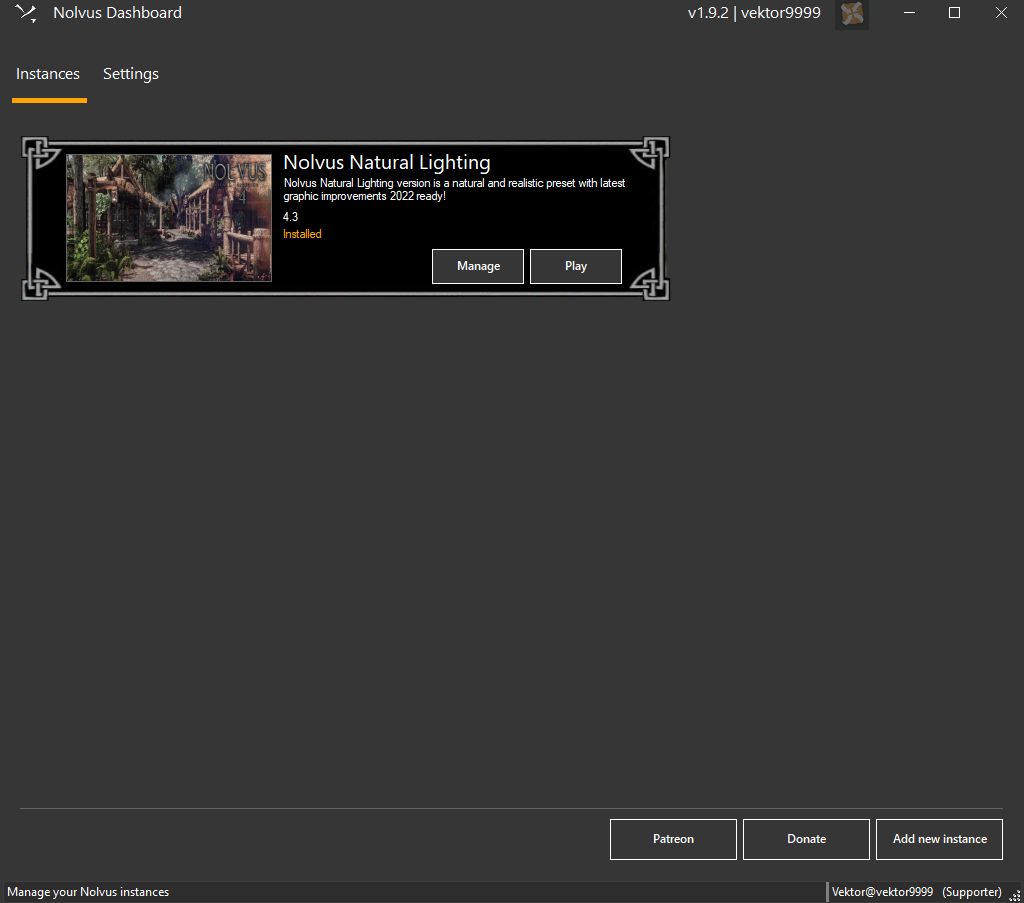 To run the game, be sure SKSE is selected in the dropdown list (DON'T RUN THE GAME WITH SKYRIM SPECIAL EDITION OR LAUNCHER SELECTED, YOUR GAME WILL LOAD INDEFINITELY!!!) and click on run

It's possible Mod Organizer 2 warns you about missing plugins on the bottom log screen.
This is normal depending the options you selected (Hardcore mode, fantasy mode, alternate levelling), mods referring to these options will not be installed if you did not select their corresponding option. Mo2 will then remove the missing plugins in the right panel.
These mods are experience mods, skyrim revamped, loot and encounter zone.
3. When everything is ok, follow the MCM configuration. Click here to go to the MCM settings page
Reinstall an instance
If you kept your archives in the path selection menu

You should have a directory called ARCHIVE inside your Nolvus instance directory (usually SSD:\Installer_Root\Instances\Instance_Name)
First Copy this directory somewhere else (remember this location). You can use an external HDD
When your archive folder is copied, delete the Instances directory located under your Nolvus Dashoard root directory
Restart your Nolvus Dashboard, in the path menu point the Alternate archive to where you have copied your ARCHIVE folder in the previous step.

The installer will take all archives from this folder and not download them anymore.
Tip
If during your reinstallation you still select Enable Archiving, i recommend to select as Archive Directory the same folder than your Alternate archive folder.
This way if the installer needs to download a new file it will copy it directly into your alternate folder so it will never be downloaded anymore in case of a future reinstallation.
Additional info
Installation time will depend on many things
Nexus premium account or not
Internet connection speed
SSD read/write speed
CPU for extracting files
On modern computers and if you are Nexus premium it should take 3 to 4 hours to install everything.
When the mod list is installed, all instances info are stored into the file InstancesData.xml under INSTALLDIR\Instances directory
Do not delete or modify this file if you don't want to broke your installation. Also make a bakcup of it somewhere.